Rockfish Fishing Alaska
Rockfish are deep-sea bottom dwellers and there is such a variety as to which one you'll catch each time. Rockfish come in a huge variety of colors and species, and Alaska has the biggest ones you can catch as you can see below in this record-breaking catch by Captain Joe (see picture below)! While not every rockfish is this massive of course, rockfish are a joy to catch as they will often pose an exciting and stimulating fishing challenge. Their popularity is due in part to their unique light taste. Essentially you can cook them in any way you would like, with options ranging from frying and deep frying, to baking and even throwing them on the grill! They are famous for not having a fishy taste and for their cooking versatility. They are some of the tastiest fish in Alaska to try, and each variety has its own unique flavor and texture. It's even considered a delicacy due to its nutty, light flavor. There are over 100 different species of rockfish, but some of the more common rockfish we catch in Elfin Cove are;
Black Rockfish


-Often mistaken for a red snapper, these guys have a black color to them and smaller sharp dorsal spines

Yellow eyes


-There are fishing restrictions on this species currently so our captains will help you identify which ones to release.

Silvergreys


-Slimmer than the others, this species has tiny dorsal spines and a protruding lower jaw

Shortraker


-Highly sought after; these resemble big goldfish with big balloon-like eyes
Visit our "Alaska Fishing" page for more information on other types of fish we catch!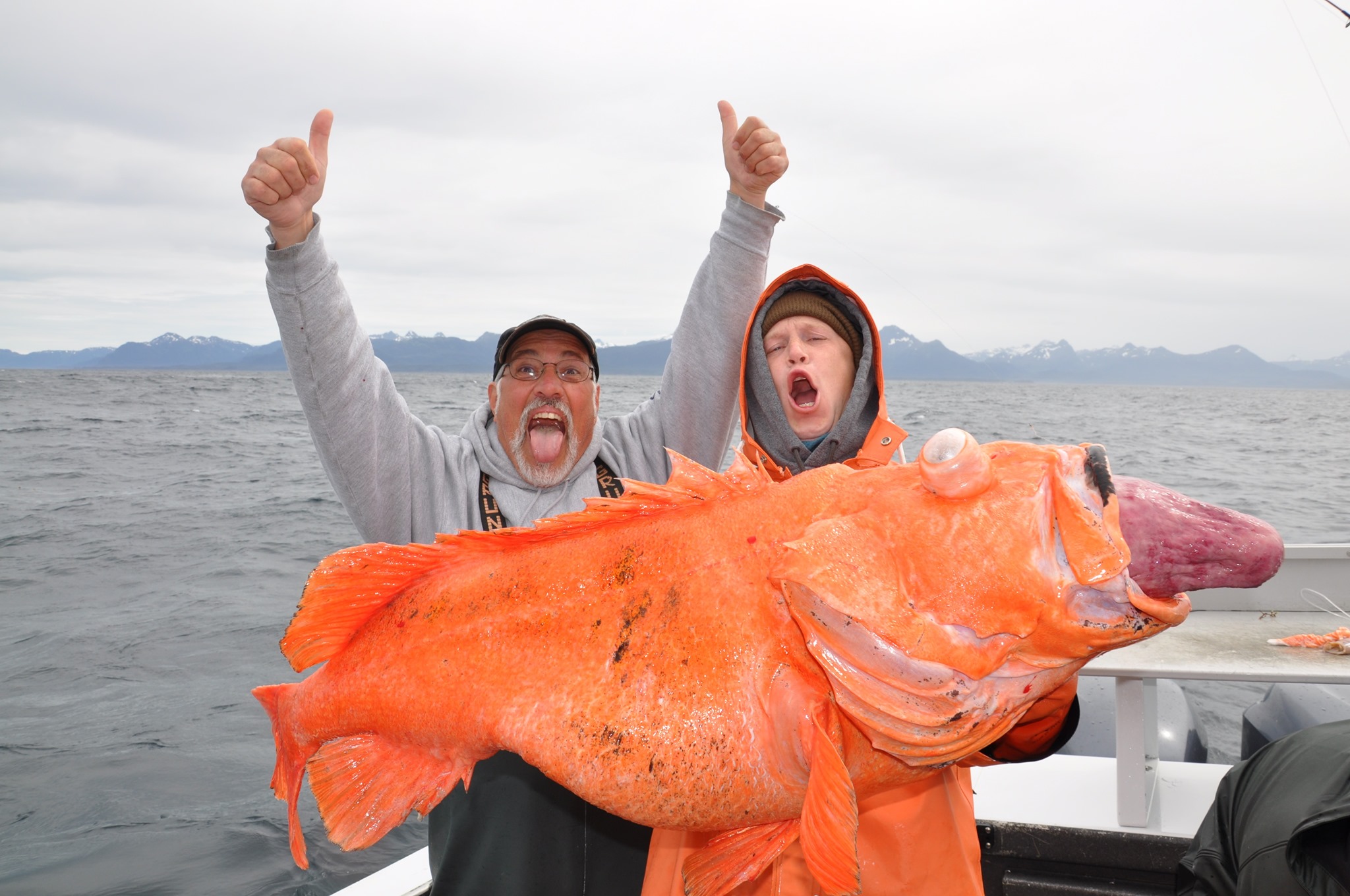 They are well-known fighters when caught at a shallow level and it takes the effort of one of our guide captains to help snag one of them, but the challenge and the taste make it all worth it in the end. If you're looking for more of a challenge, the bigger rockfish are going to be deeper than 100 feet underwater. These can be caught with either bait or lures depending on the depth of the water, and our guide captains are more than happy to assist with any available depth you want to work with. Even though salmon and halibut may sometimes overshadow the rockfish as the most popular fish to catch here in the Alaskan Pacific, rockfish are special and we love catching them. It has been proven that the biggest rockfish you can catch are going to be on the Alaskan coast, so these guys are going to be bigger, tougher, and tastier than the ones you've heard about or seen. If you're hoping to catch rockfish there's no better place to go than Tanaku Lodge, nestled right in Elfin Cove for boating convenience. With next-door access like this, there is absolutely no reason you would leave our lodge without catching a beautiful, delicious rockfish of your own. 
Rockfishing Alaska
When you book a trip at Tanaku Lodge, it is apparent that our focus is not only on fishing but also on giving you a once-in-a-lifetime experience along with trophies to commemorate with. We offer packages for multiple days so our guests can truly use their time to unwind, learn new techniques, and have a great time doing so. One-day charters can only go so far and are very restricted on what you can try to catch and take home with you. On a multi-day trip here at Tanaku, our guides take you all over the Elfin Cove area (and even surrounding shallow water fishing areas) in order to ensure that we cover as much ground as possible, and catch as much of a variety of fish as we can. We're always breaking records and catching incredible fish here, so if that's your goal there's no better place to start.
Even if you're not concerned about catching a specific type of rockfish or breaking any records, the experience of boating through the beautiful Elfin Cove area with our charismatic and knowledgeable captains is tough to beat. With views that you dream about and wildlife you usually only see on TV, there is something for everyone to enjoy and take away from the trip. Once the day of fishing on the boat is over, we all head into the lodge and the Tanaku experience only continues to richen. With amazing three-course meals every night made by our 4-star chef T and complimentary wine or beer, there's no better place to swap stories and make memories than our rustic lodge, in front of our wood-fired stove. Guests can rest assured that all cautionary measures are taken when there are any mentions of allergies or food restrictions. We also have highly comfortable rooms with private bathrooms so you can get clean and ready for the next day of fishing, to do it all over again.
Rock Fishing Alaska
Many find that some species of rockfish are their favorite fish to eat, so if that's what you're looking to bring home we'll make it happen! Since there is such a variety of fish in this Sebastes species, you can find a size, color, and flavor that perhaps you've been unable to find at regular markets. However, since this species is slow-growing, they are very susceptible to overfishing in certain areas. The yellow eye rockfish are currently subject to fishing restrictions and do have to be released back into the ocean after catching them, but the good news is that still leaves around 30 other common species of rockfish that are all yours for the taking! Your experienced boat guide captains can help you properly identify the correct ones to release. 
One of the most unique highlights of a trip to Tanaku Lodge comes after your trip has concluded. We'll send you home with boxes of perfectly cut, prepared, and frozen fillets from the fish you caught in boxes that are weighed to a max of fifty pounds, to make it just under the Juneau flight requirements. This means that you not only get to catch some of the most beautiful fish in the world, but you get to bring home a box of fresh, delicious cuts.