Halibut Fishing Alaska
Halibut is one of the top fish species to catch throughout the Pacific Ocean, and there are no bigger or better halibut to catch than those around Tanaku Lodge here in the Elfin Cove, Alaska area! Frequently weighing in at over one hundred pounds, and occasionally reaching two hundred or even three hundred pounds in this area, Alaskan halibut can't be beat for the most heavyweight deep sea fishing experience, and potentially the most tasty for eating as well. These beasts grow to be massive sizes here that you won't see in more densely populated areas, which makes for an excellent fishing challenge and a pretty stunning photo op to boot (such as this photo of our fishing guide Hayden with an excellent halibut here.) Follow us on Facebook for more great fishing photos each year.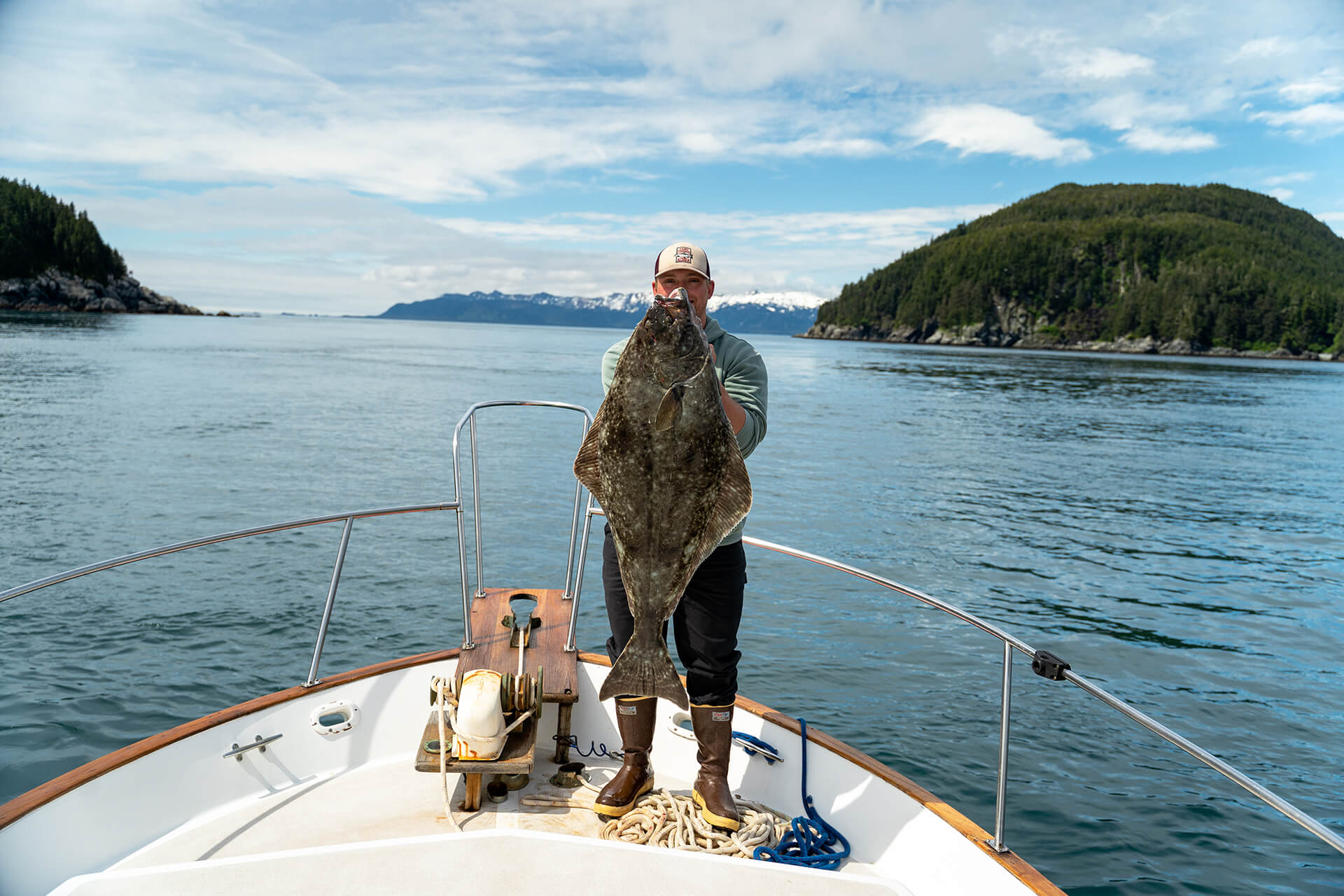 Many fish lovers are also huge fans of halibut for its sweet and mild taste, and flexibility to be used with so many different styles of cuisine as it absorbs flavor very well. Our wonderful cooking experts here at the lodge will be happy to give you some recipe ideas, for when you take your box of fish filets home after your trip to Tanaku! However, if you're looking for a challenge, get a few weightlifting workouts in before traveling to Tanaku and then see how many giant halibut you can pull in! If you hook one that's too large for you to pull in by yourself, we'll take care of it for you so you don't hurt yourself as well (hauling a one hundred and fifty pound halibut up out of the water is no joke.) Feel free to go for the biggest halibut of the week, month or year while you're here. Meanwhile if you're more of a foodie as mentioned before, we'll guide you to your best shot for catching smaller eaters that will be extra tasty when you go back home.
Halibut Charters Alaska
The Tanaku Lodge experience is the best way to catch halibut or any other Alaskan fish you fancy, and have a great time doing it. While other one day charters can be a good way to try out fishing for the first time if you're unsure of the commitment to a longer trip, a three or five day trip to Tanaku is the true Alaskan fishing experience where you can fish for exactly what you want, and catch the fish of your dreams in a remote, beautiful location. Staying at our rustic lodge and having excellent meals throughout the day, and having all your gear needs covered gives you the ability to focus on catching fish during the day, and relaxing comfortably in the evening before going for it again the next morning. Our lodge is built almost entirely out of beautiful cedar and pine wood, and with our private rooms, wood burning stove, hot tub and covered patio areas, there's no better place to relax after an exhilarating day out on the water with a cup of coffee, beer, wine or your preferred alcoholic beverage (we provide beer and wine on the house, and if you want to bring your favorite lager, label or liquor along you absolutely can!)
Our boat guides will take you to the best spots to not only catch the particular type of halibut or other fish you're searching for, but also to view incredible nature spots on the shore, and point out other flora and fauna that you won't see anywhere else in the United States. Whether you're hoping to troll the deep sea for halibut and rockfish, or you're more of a king salmon enthusiast, our guides are extremely knowledgeable about not only the most commonly great spots for catching these fish, but also are nerds about how the season is going and where the fish are most likely to be based on the weather, time of year and all sorts of other factors. They're excellent at their jobs as fishing experts, and also great hosts that will make your days as fun and memorable as possible. Even if you're only fishing some of the time and just enjoying being out on the water, that's perfectly fine. The views and wildlife here are absolutely stunning, and we don't blame anyone who is along for the ride just for the ocean vistas and to hopefully see a whale! It happens more often than you would think, believe us. 
Alaska Halibut Fishing Trips
There's nothing like a trip to Tanaku to make wonderful memories with friends and family. While we do have limited cellular services in the area, we recommend unplugging as much as possible when you visit us to get the full benefit of staying in Elfin Cove, Alaska. Reconnect with your family members and make new connections with fellow guests, and enjoy the incredible views, nature and sights of Alaska while you're at it at Tanaku Lodge. As mentioned earlier, we'll also send you home with a fifty pound box of perfectly cut filets from your catches (typically one box per guest, so if you're here with the family that could be a lot!) Whether you get lots of halibut, salmon, rockfish or one of the other fish we often see here, we know you'll enjoy the fresh caught fish immensely. There's nothing like having a delicious halibut meal that you caught yourself and is fresher than any fish you've ever gotten from the supermarket! Be warned though, you may have a few (or several) requests from friends, family or coworkers back on the mainland for some hard earned, beautiful salmon, halibut or ling cod filets from your haul. We get it (who wouldn't want some incredibly tasty halibut?) but feel free to be selfish in this case.
If you're considering booking a trip to Tanaku Lodge, just call us at (907) 239-2205 and we'll be able to give you any more information you need. Spots fill up quickly for the peak fishing season in the summer, but we'd be happy to let you know what's available for this year or future years.