Targeted Species
These are all the fish we commonly catch here at Tanaku Lodge. Learn more about the salmon, halibut, rockfish and cod varieties we often see in Elfin Cove!
Chinook Salmon (King)
This is the largest member of the Salmon family and ranges in size from 10 pound adolescents to over 60 lb slabs. Kings are available year round with optimal fishing conditions from early May into June. If you enjoy feasting on your hard-earned catch – Kings are at the top of the culinary list with its deeply flavorful flesh.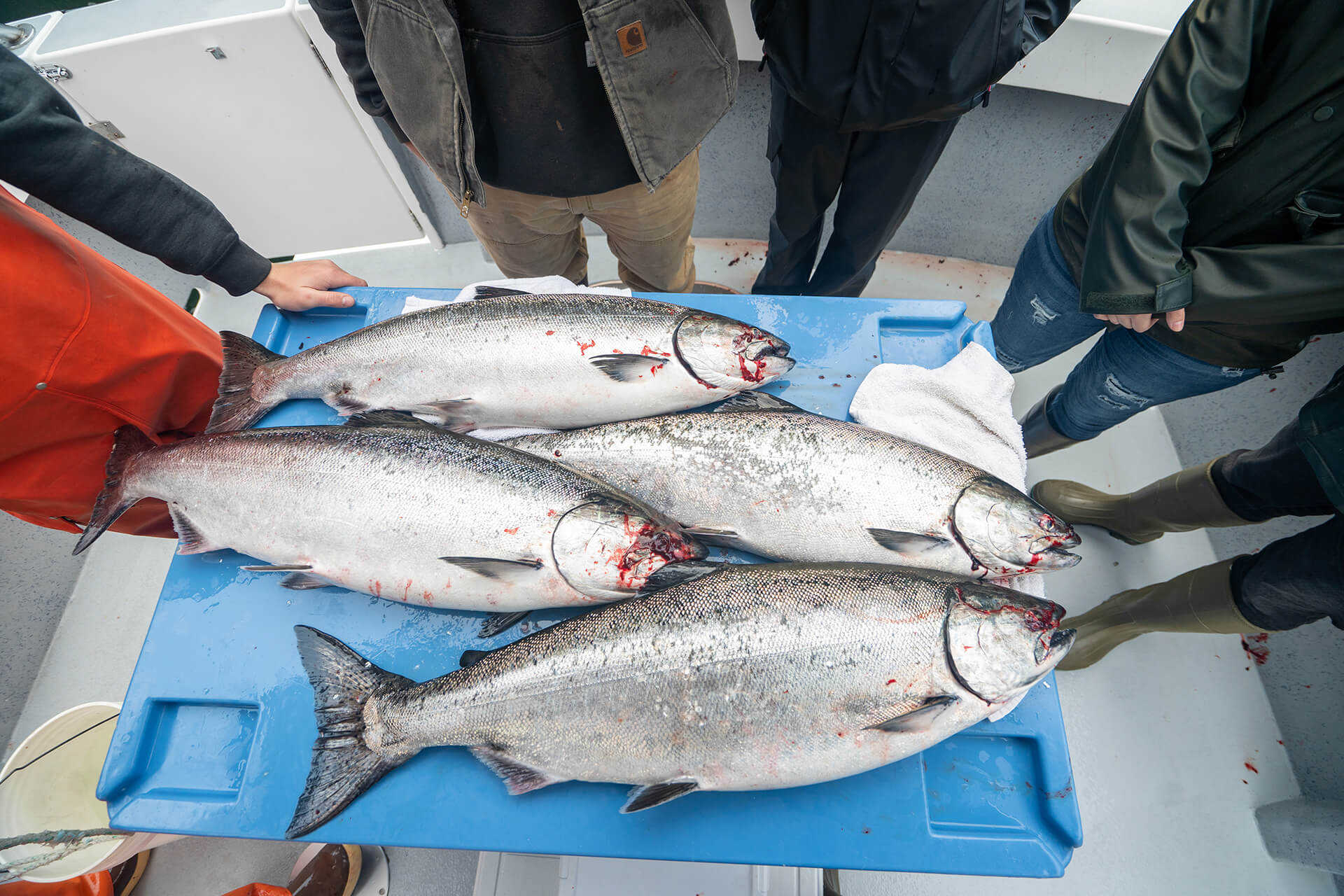 Pacific Halibut
If you have a hankering for BIG CRITTERS from the DEEP – these flatties will give you one hard-fought battle you will not soon forget! It may be advisable to 'hit the weights' and get pumped up like Arnold before taking on these heavy-weight game-fish. We've seen a 450 pound halibut from time to time, but monsters landed larger than 300 pounds are uncommon. Don't get me wrong – they are out there, but probably, due to their longevity, have learned to avoid the hook. Every season Halibut in the 300 pound class are landed in our area. Many prefer catching 'butts' in the 50 to 100 pound range for eating though. According to many, they simply taste better. While they are known to be bottom-feeders, that is somewhat of a misnomer, because they will chase pink salmon into the shallows at the mouth of rivers.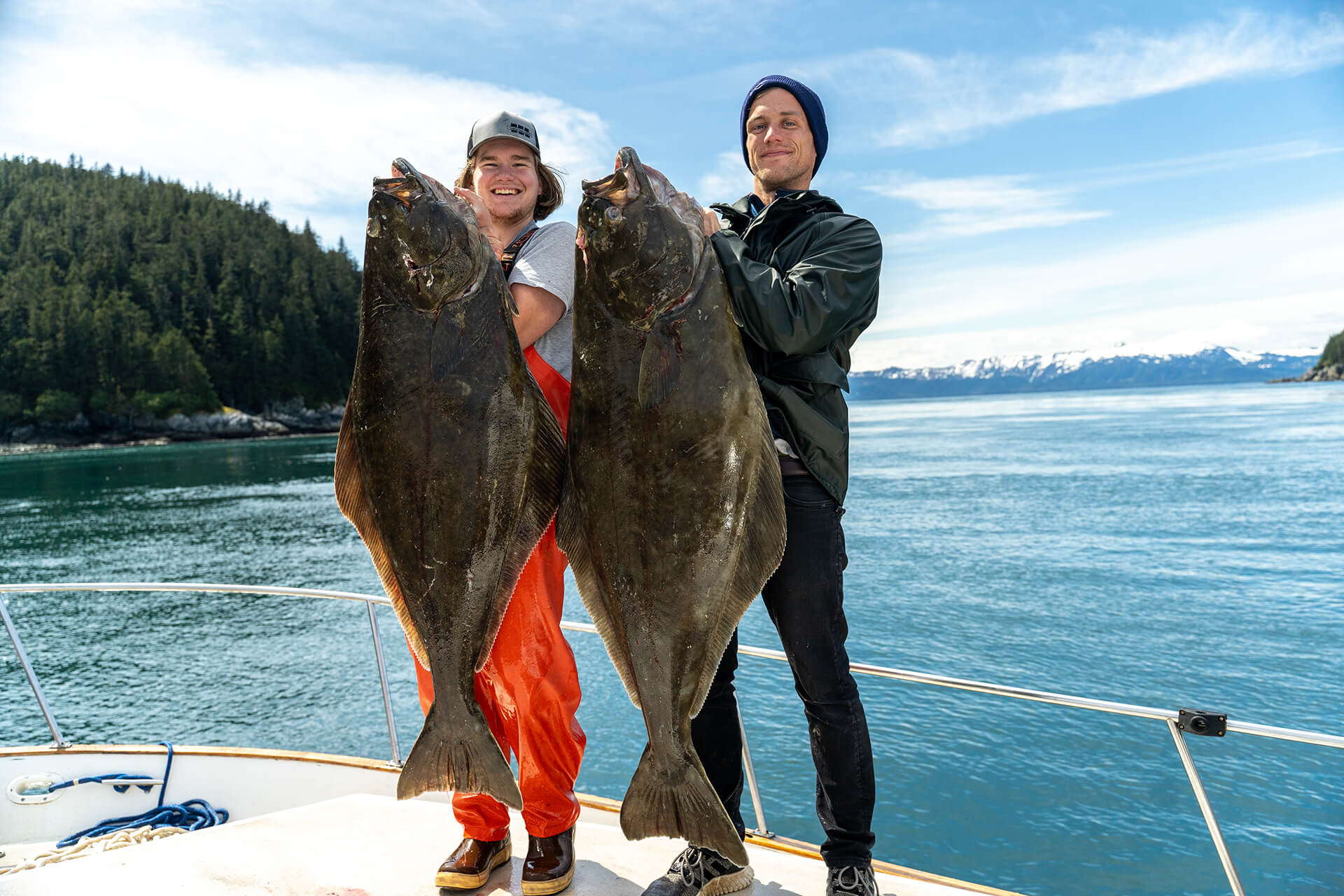 Coho Salmon (Silver)
You will find a great abundance of this frisky fish when they begin to invade the outer strait in July; providing lively sport fishing action well into September. Coho range in weight from 6 – 18 pounds during the season, with lunkers topping 20 pounds.
Whereas Kings tend to feed greater distances from the surface water; cohos feed nearer the surface. They are a very acrobatic fighter. In terms of eatability – they are very delicious and add color to any plate with their rich, red flesh.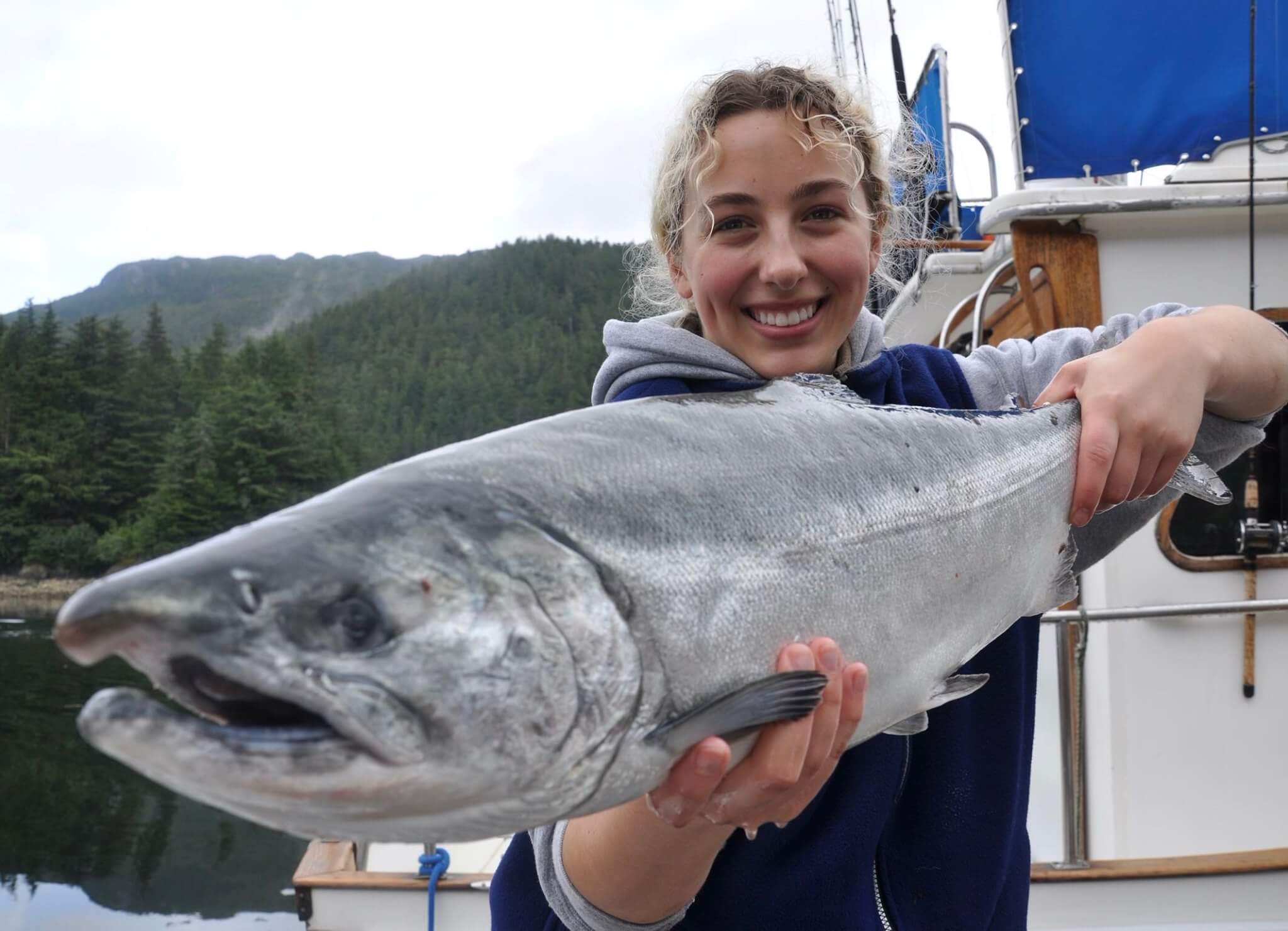 Lingcod
One of the most awesome monsters landed from our waters is the ancient looking Lingcod. While not the most attractive game fish, many find them to be one of the tastiest fish you can get in Alaska. Lingcod range from 10 to 80 pounds. The average is around 20 pounds. You will find these ungainly creatures along the rocks and reefs of Cross Sounds and the Alaska gulf coast.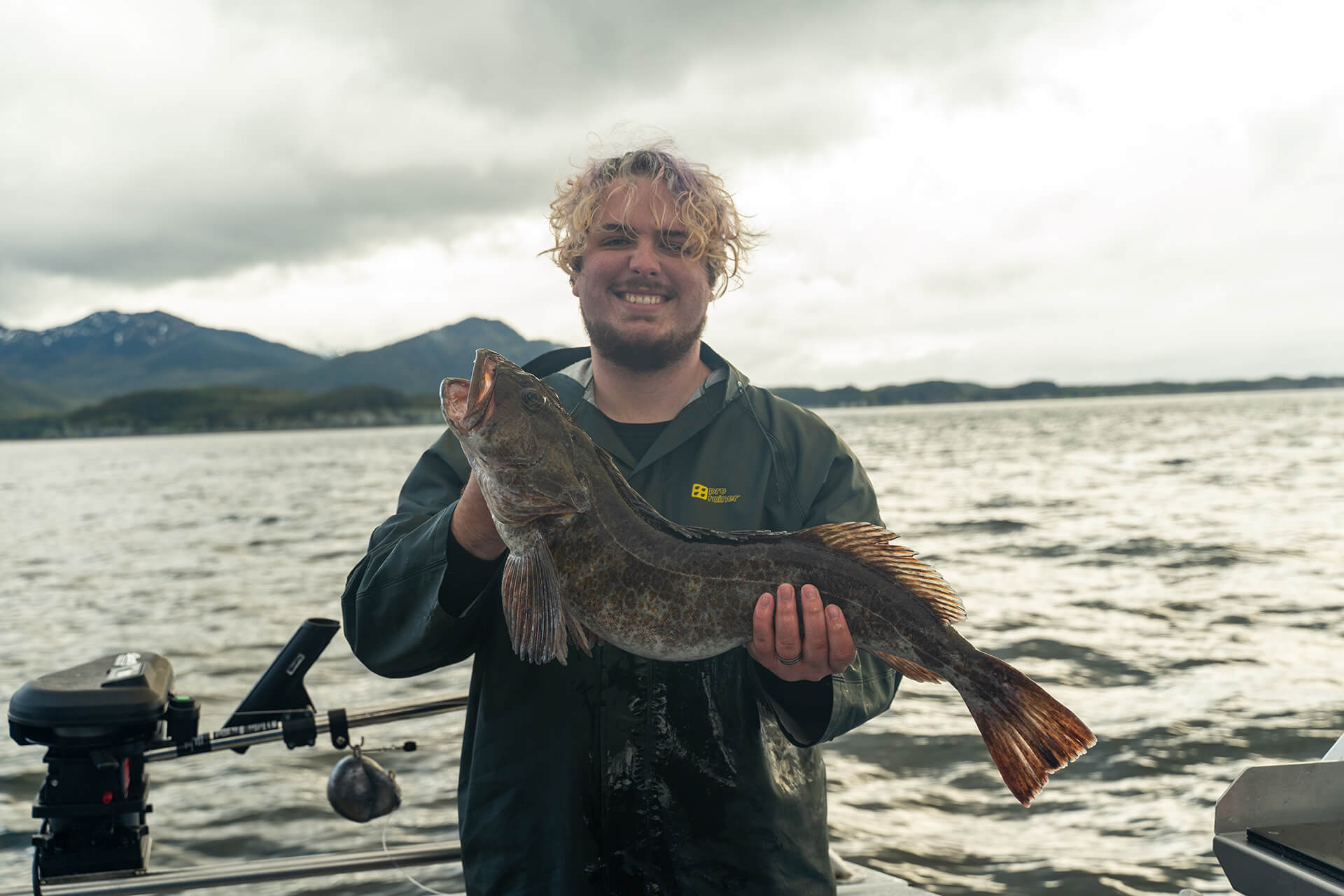 Chum Salmon (dog)
Have a reputation as a hard hitting salmon and run from 8 to 12 pounds, with the biggest breaking the tape at over 30 pounds. The Juneau Alaska hatchery releases of Chum are an enormous boom to their numbers around eastern Icy Strait waters. Smoked chum salmon is a delicacy that many of us here enjoy thoroughly.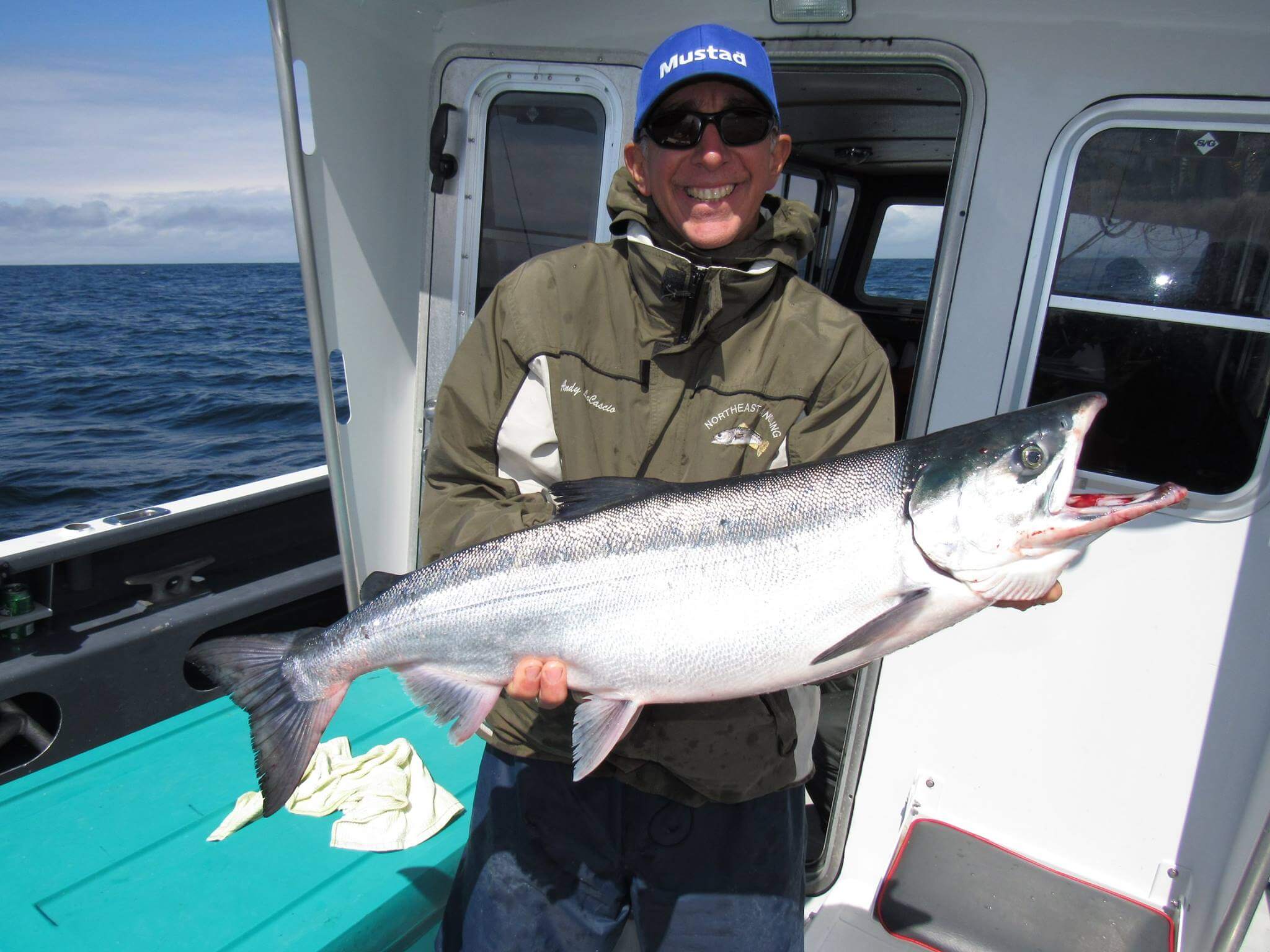 Rockfish
These fish present a rich collage of colors and flavors. All rockfish are tasty and some will provide a real challenge against your efforts to land them. Unfortunately in 2021 yelloweye rockfish have to be released due to current fishing regulations, but there are still a variety of Rockfish you can keep! The highly sought after Shortraker Rockfish is an adventure to catch. Found at 800-1,000 feet deep, these giant goldfish looking rockfish require Tanaku's skilled guide captains to help you successfully land one of these gems.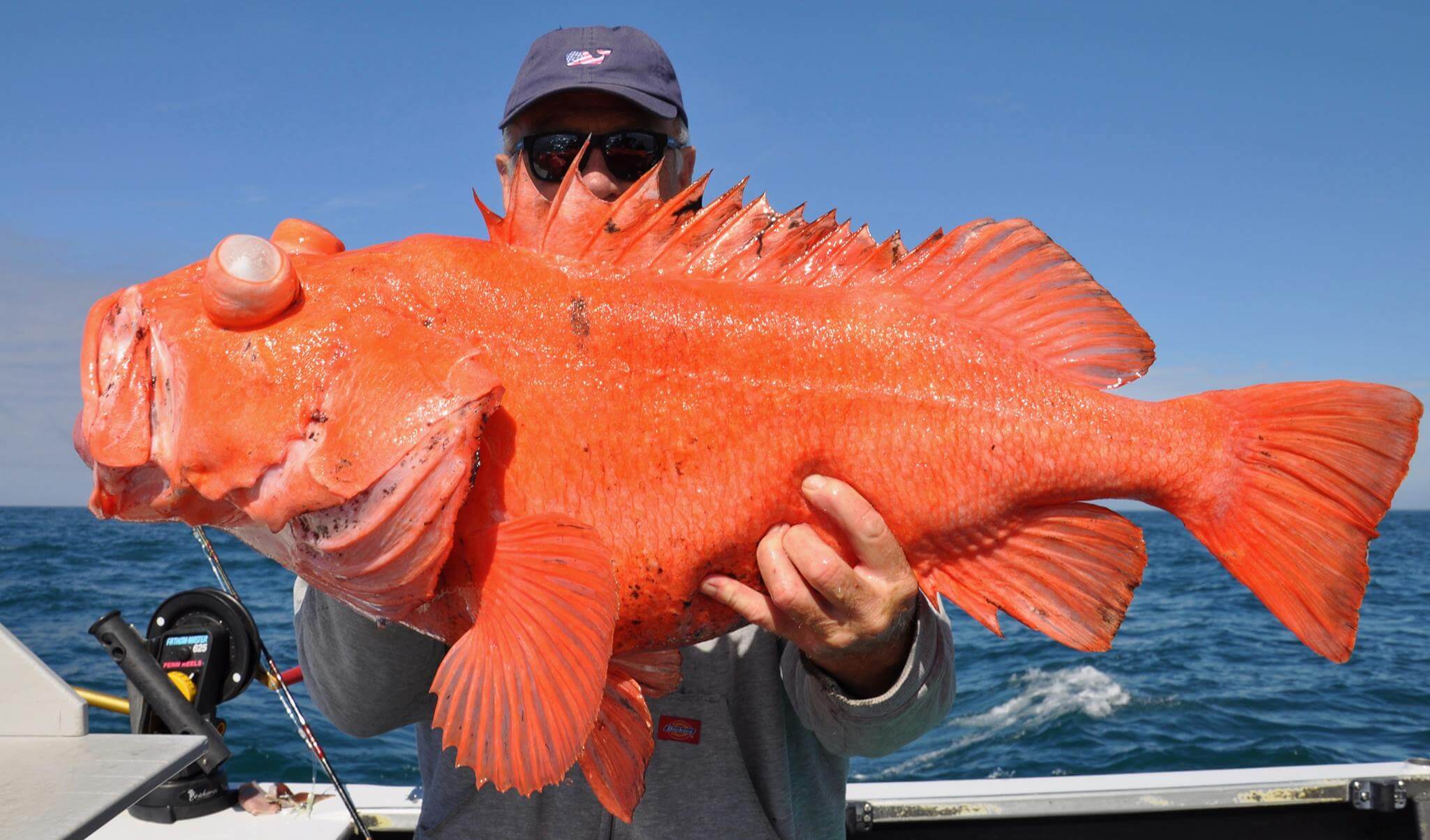 Black Cod/Sable Fish
Black Cod or Sable Fish are commonly targeted while at Tanaku Lodge. Known for their excellent culinary features and nutritional value, these fish are caught near 1,000 feet deep. Black Cod live well into forty years, the oldest on record in Alaska was 94 years old! They average in size around ten pounds but it is not uncommon to catch ones larger. Get your reeling arm ready for these fish and you won't regret it!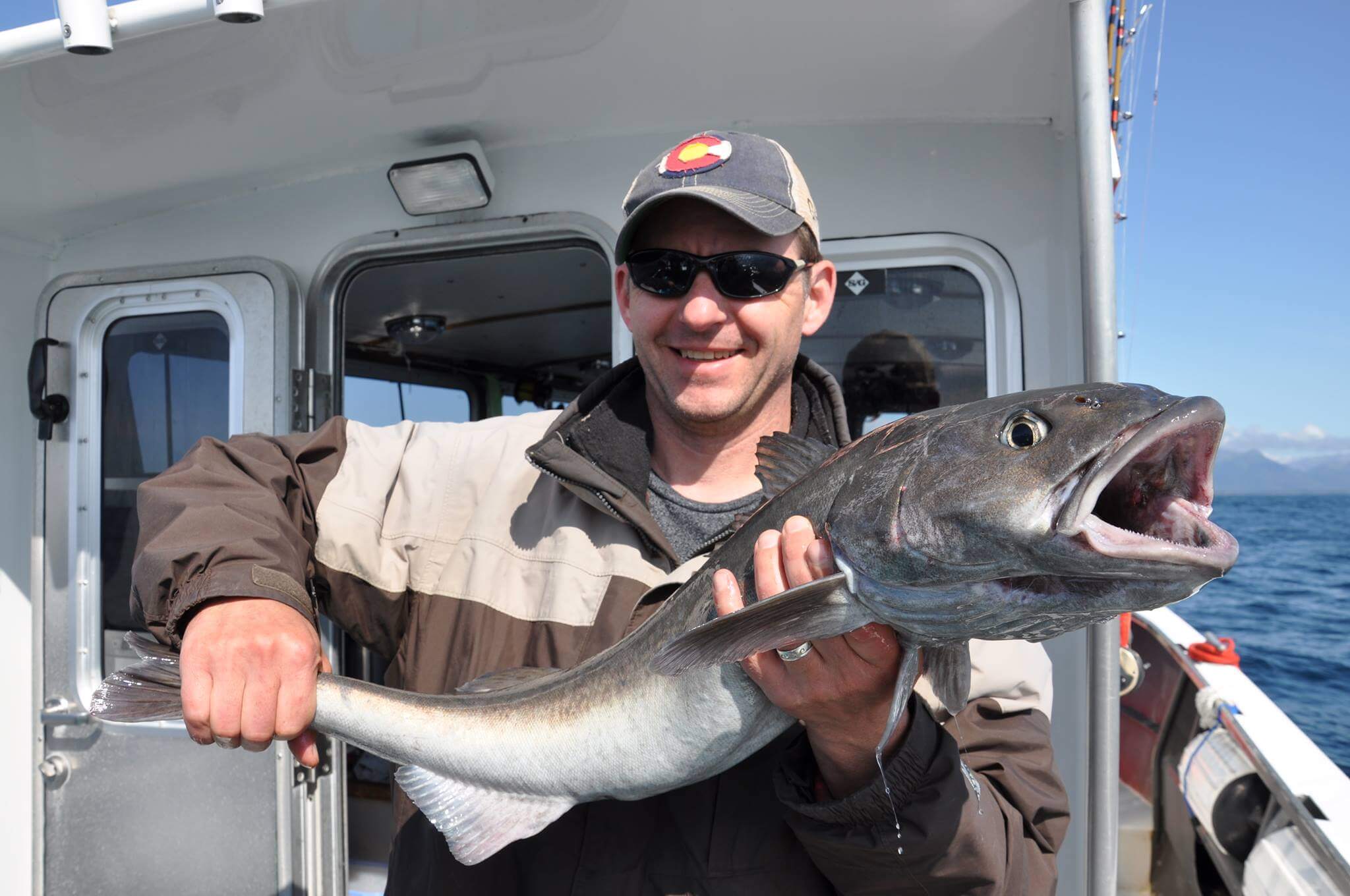 Pink Salmon (humpy)
Though relatively small, when compared to their bigger cousins (ranging between 3 to 6 pounds), pound-for-pound, these feisty game fish will provide willing anglers with fishing action they won't soon forget! The waters of southeast Alaska are teeming with these scrappy salmon starting in early July. They are best caught on light line to give them an opportunity to showcase their boundless energy and amazing speed.