Alaska Fishing
Welcome to Tanaku Lodge, Alaska's best sport fishing lodge! We are located on the northernmost tip of the famed inside passage in the boardwalk community of Elfin Cove, Alaska. Our Southeast Alaska location is well-known for its extraordinary fishing action and our Alaska lodge is renowned for its superb guest services, four-star cuisine, excellent guiding staff, and down-home hospitality!
Our Alaska lodge is the perfect vacation destination for those seeking an escape from the disquiet and break-neck tempo of city life. With amenities for everyone, we aspire to give each person a memorable experience that lasts a lifetime. It doesn't take long for our guests to be transformed by the mixture of our friendly lodge services and the embracing quiet and pristine wilderness found here. Our fresh, clean air will intoxicate you, the abundant wildlife will thrill you, our epic glacial scenery will captivate you, and your fishing success will make you return with the migrating salmon each season!
Whether the goal of the trip is fishing or relaxing, we have something to leave each lodge guest satisfied. Along with the beautiful landscapes and wildlife viewing opportunities, we offer three delicious and filling meals a day from our dedicated 4-star chef. Starting with a nutritious breakfast to start the day early, we head out to fish for the day. Lunch is provided and packed to take with you on the boating trip each day, ending with a delectable 3-course dinner back at the lodge afterward (your choice of wine and beer are included of course!). We ensure a fully accommodated stay at the lodge with outstanding service for our guests that are looking for the opportunity to unwind, have some fun, and take home some delectable fish.
Elfin Cove, Alaska is a small fishing community located on Chichagof Island. There are approximately ten residents who live here during the winter months, but this sleepy hollow comes to life during spring and summer due to the tremendous runs of ocean-bright salmon. The small community and distance from the hustle and bustle of city life makes this a quaint and tranquil destination to mark on your map. Completely disconnected from the hustle and bustle of every day life, the serene water and mountain views will leave you relaxed, clear-headed, and wanting to come back next year. If you're craving a break from the noise, Elfin Cove might just be the getaway for you.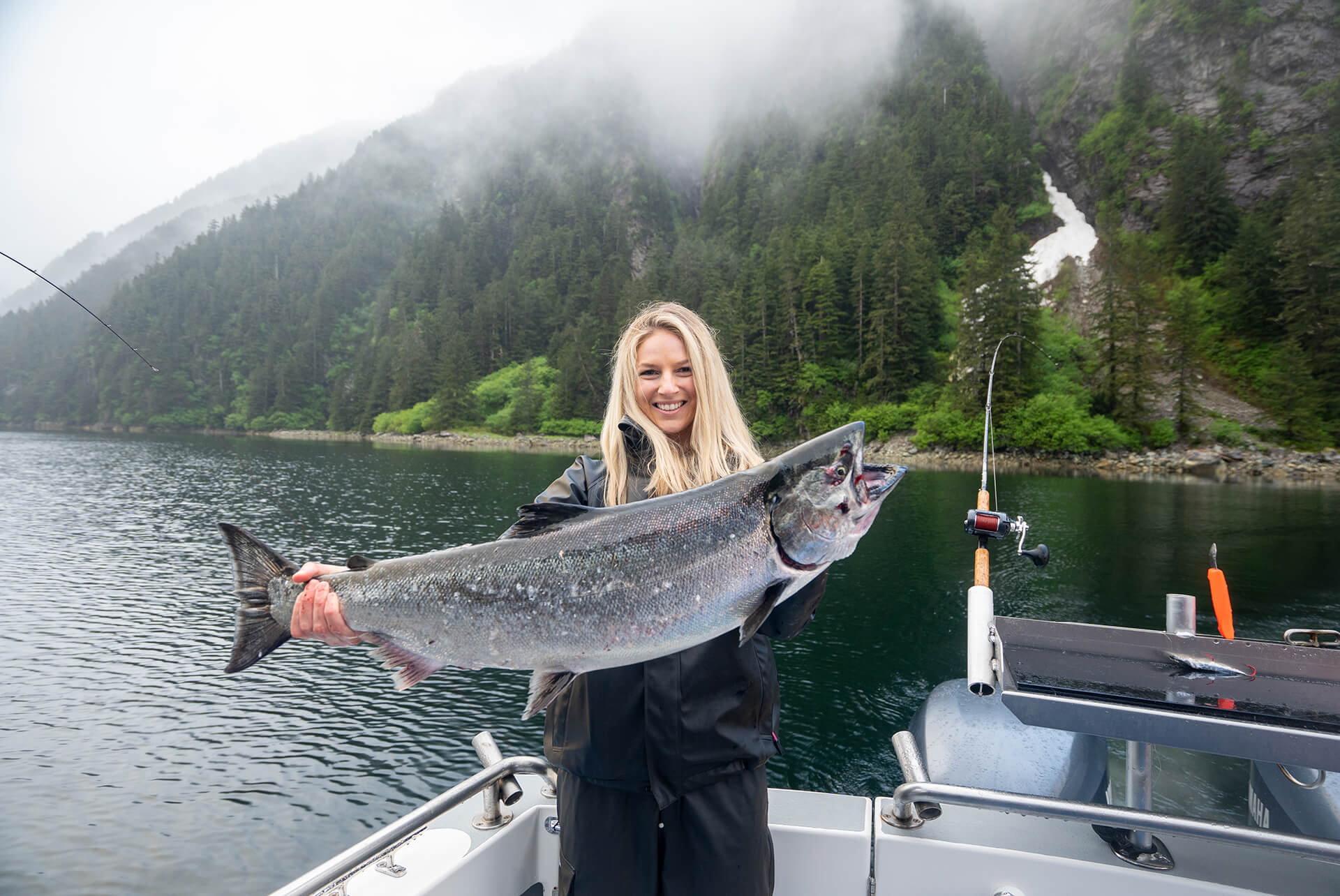 Sport Fishing Alaska
Yes, our fertile waters provide you with a virtual bonanza of fishing action and plenty of angling options! Whether you are chasing a trophy king, looking to vertical jig a silver, or catch a barn door halibut, Elfin Cove will not disappoint. This specific area has an abundance of all kinds of fish year round, with thriving waters during some seasons. Whether your orientation is fly-fishing with an emphasis on catch and release, or hot and heavy saltwater angling with a desire to take home boxes of fresh/frozen fillets and steaks – Tanaku Lodge should be on your short list of where to sport fish anywhere in the world!
While our main attraction is deep sea fishing, we also offer a chance to try your hand at shallow water fishing as well. Our expert guides are familiar with the surrounding terrain and assist in creating a custom experience for everyone, wherever they decide to find their catch of the day. There are a number of streams and rivers nearby where you can match your fly, bait or lure casting expertise against lively dolly-varden, trout, and pink and coho salmon. The water is so crystal clear you can see the fish strike your fly or lure!
Among other types of fish you can possibly catch, some of the more common fish are;
Chinook (King) Salmon; the largest of the salmon family

Pacific Halibut; a flat, deep sea fish

Coho (Silver) Salmon; a smaller surface fish

Lingcod; one of the tastiest fish in Alaska with an average weight of 20 pounds

Chun (Dog) Salmon; often smoked and eaten as a delicacy

Rockfish; deep sea fish that requires one of Tanaku's guide captains to help catch

Black Cod (Sable Fish); high in nutritional value and caught near 1,000 ft. deep

Pink (Humpy) Salmon; relatively small but contains boundless energy

Check out the "Alaska Fishing" tab to see more information on the different species of fish mentioned above.
Guests often ask when is the best time to come to our lodge. The season is excellent all year, but if you are targeting a specific catch the following chart helps you learn a little about the fish runs. However, the only way to get to Elfin Cove is by sea plane, which is available 1-2 times daily during the winter season and 3 times daily during the summer. We encourage you to plan your getaway in accordance to your comfortability with the available travel. 
Our scale here goes from Available, to Good, to Great, and lastly to Peak which is when catching is the best for that species.

Deep Fishing Alaska
Our dedicated goal and 100% focus is to assure each guest vacationing with us has a wonderful Alaska lodge and sportfishing experience. Even if you decide not to engage in fishing for the trip, we guarantee a peaceful and restful stay with plenty of spots to sightsee, both at the lodge and on the boat. We hope to have the pleasure of sharing our world-class Alaska sport fishing lodge with you! 
Browse through our photo gallery to see why our guests get hooked into coming back year after year.
"We have been bringing a group to Tanaku for the past three years. Once you have experienced the "Tanaku Charm" it is hard not to come back each year. We have tried different periods from early June to late August and each trip filled our expectations of fishing, food and fun. The staff at Tanaku has made each of our trips a "once in a lifetime" experience!"
Bill Sherwood
Progressive Software Solutions, Inc.