Dining at Tanaku Lodge
The fishing is excellent, the customer service is above and beyond and the food is to-die-for. All statements we hear repeated from our customers all season long! With three major meals a day and many other options for snacking throughout the day, you will not go hungry during your stay. We enjoy incorporating a variety of foods and styles in every meal that is created. When possible we use locally sourced products like purchasing local seafood and locally grown vegetables. While we are in a remote village, we do our best to accommodate all food requests. We are happy to accommodate special dietary restrictions and we are very familiar with catering around allergies.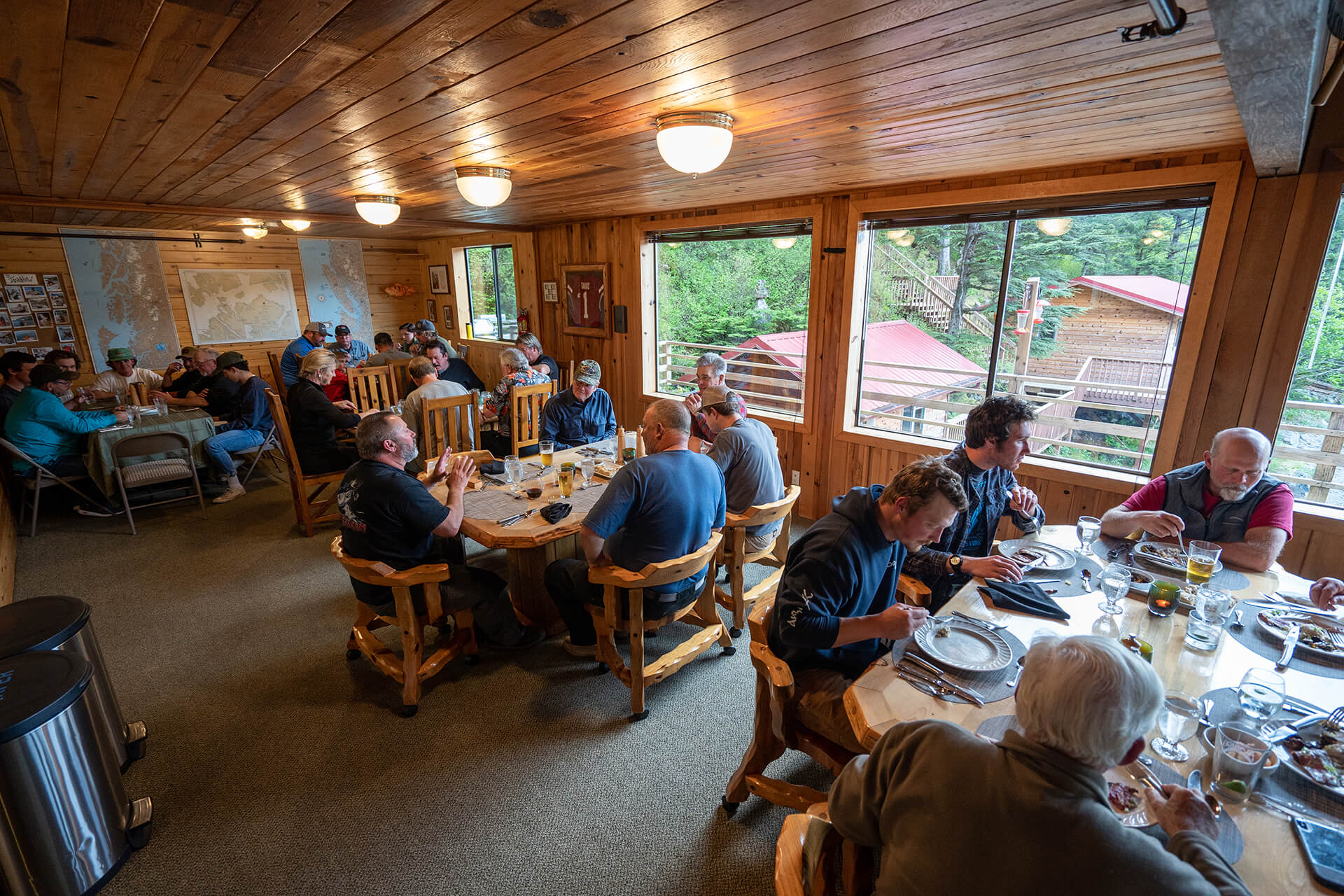 There is no doubt that the amazing culinary experience provided at Tanaku Lodge is hugely on behalf of Tamarind Taylor. She has been working at Tanaku Lodge since 2004 and has been cooking at Tanaku since 2008. Over her many years of experience she has developed the perfect dining experience. Tamarind, known to most a T, grew up in Golden Colorado, has spent many winters in Las Vegas, and now spends her winter season cooking at a hunting ranch in Colorado. T loves sports, especially the Golden Knights and the Broncos. While at Tanaku Lodge, if you don't find T in the kitchen, she is probably telling her famous jokes while enjoying a glass of wine!
Breakfast
Every morning starting at 5:00 a.m. we have piping hot fresh coffee and a continental breakfast for your enjoyment. Fresh sliced fruit, homemade pastries and breads, bagels, English muffins, scones, assorted juices, yogurts, and a variety of cereals. We also have home-style oatmeal available. We make different meals each day, but some of our favorites include; buttermilk pancakes topped with warm maple syrup, fluffy scrambled eggs with thick bacon slices and hash browns, buttermilk biscuits topped with country style gravy, omelets, cinnamon swirl french toast, eggs benedict and breakfast quesadillas.
Lunch
Each day your lunch is packed into a cooler and taken on the boat. The evening prior, you will fill out a lunch card choosing the type of sandwich you would like prepared and you have the option to select a variety of fruits and desserts. In the lunch box there is also a variety of snacks to choose from including granola bars, candy, chips and more! We offer a large selection of breads, lunch meats, cheeses, vegetables and condiments. Keep it simple with a peanut butter and jelly or create a sandwich masterpiece.
Appetizers
We serve appetizers each day at 6 pm before dinner, so make sure you're here in time! Each day has a special appetizer, but some of our top favorites we've served over the years include the following: fresh Dungeness crab served with spicy cocktail sauce and lemons, salmon cakes topped with T's secret sauce, wings of fire served with ranch dressing and carrot & celery sticks, BBQ shrimp wrapped in bacon with a hint of horseradish and cocktail sauce, beautiful charcueterie boards, smoked salmon, spinach artichoke dip, buffalo chicken dip and so such more.
Dinner
A three course meal begins with a fresh green salad or warm soup of the day. Example salads include a creamy herb vinaigrette or Italian dressing salad, blue cheese wedge salad, grilled romaine with Caesar dressing and a classic house salad with ranch dressing. Soups include french onion, sweet and sour shrimp and clam chowder.
For entrees our chef often creates a new menu each week while incorporating some traditional Tanaku favorites. Some of these beloved entrees include Halibut Fish and Chips served along side homemade coleslaw, Fish and Carne Asada Tacos, Wasabi Panko Crusted Salmon with Coconut Sticky Rice, Jalapeno Chip Crusted Halibut served on a bed of pasta covered in a cream sauce, Prime Rib with Garlic Mashed Potatoes, tender Pork Tenderlion with Mushroom Risotto and perfectly marinated Flank Steak along side roasted potatoes. Each entrée includes fresh vegetables cooked to perfection.
And finally dessert! We enjoy getting creative when it comes to baking as well. Some examples of our commonly served desserts include, Lemon Cake, Chocolate Bundt Cake, Peach Cobbler, Crème Brulee, Key Lime Pie, Warm Skillet Cookie with Vanilla Ice Cream, Apple Crisp, and Bread Pudding topped with a delicious Bourbon sauce.