Alaska Fishing Trips All Inclusive
Tanaku Lodge is located in Elfin Cove, on the northwestern side of Chichagof Island and there's no better place to have the fishing trip of a lifetime! Our beautiful lodge is a traditional structure with a rustic but comfortable all wood interior. The mixture of cedar and pine, Alaskan art, vaulted ceilings, wood burning stove, and our wonderful lodge staff, combine to create a cozy lodge atmosphere that invites relaxation and great conversations. Our lodge and private cabin cater to up to twenty-five guests at a time. Each bedroom suite features two full-sized beds and either a shared or private bath. Shared baths are only shared with guests from the same group occupying two rooms so you can enjoy privacy during your entire stay. We also provide all the raincoats and fishing equipment you will need for fishing so you can just bring your own regular clothes and toiletries, and we'll take care of the rest. Don't forget to bring a swimsuit so you can enjoy the hot tub!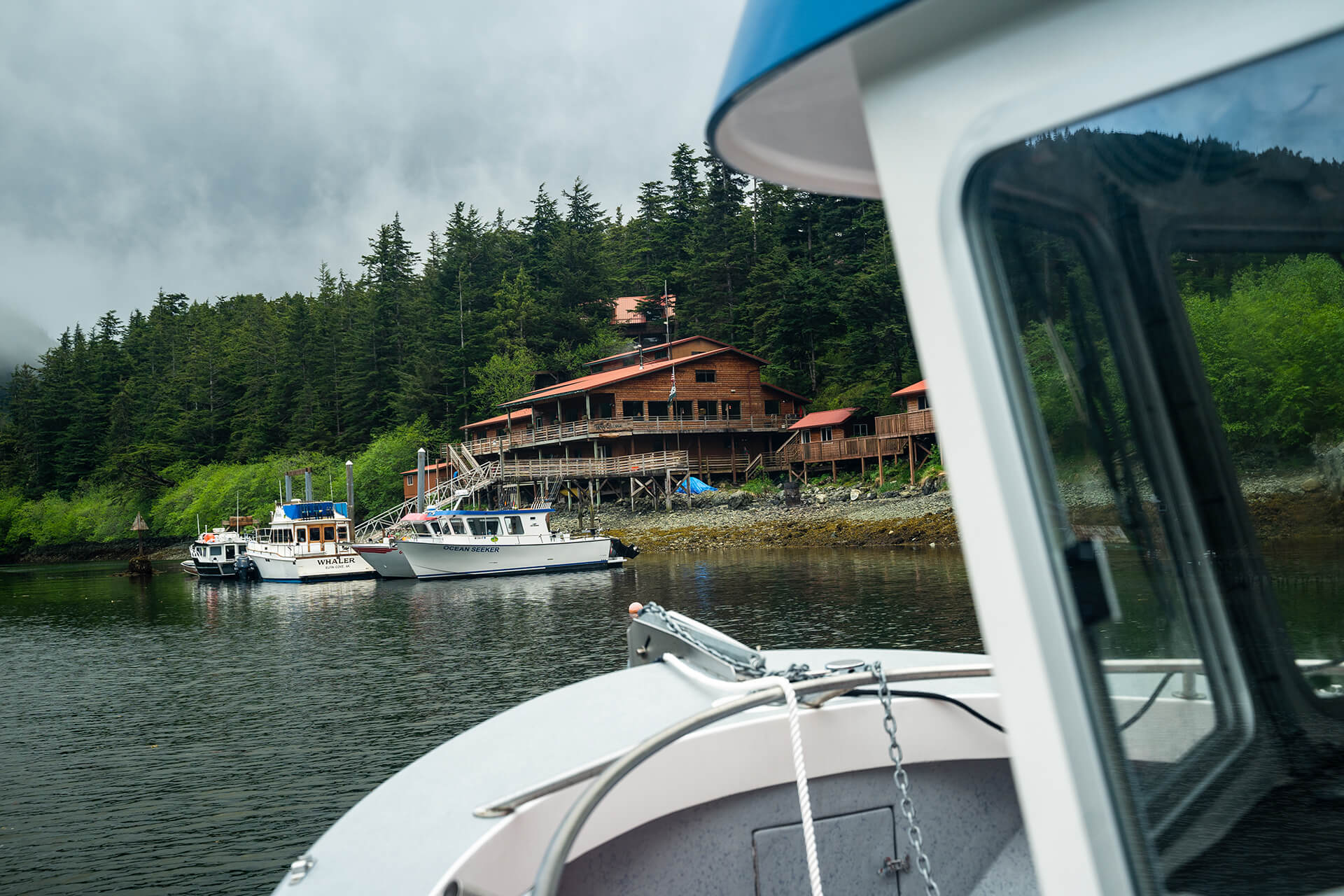 Staying at the lodge means all your needs are taken care of for breakfast, lunch and dinner. We provide amazing food (courtesy of our wonderful Tamarind or "T" as everyone calls her!) excellent rooms to stay in, and even free beer and wine with dinners (although we recommend bringing your own favorite beverages if you have something specific you like best, or want harder options than beer or wine.) There's no better place to swap fishing stories and enjoy the evening after an excellent day of fishing. Our kitchen staff make excellent, delicious meals and will pack a lunch based on your requests for fishing days so you'll be well fed all day. You can also enjoy the aforementioned hot tub, sit in front of the warm wood burning stove, hang out with one or more of our family dogs that we usually have hanging around, or enjoy the view of the bay from our covered deck seating.
Alaska Fishing Resort
Our wrap-around windows and outdoor decks provide you with excellent views of Elfin Cove and the Fairweather Mountain Range of Alaska. The views are truly awe-inspiring and even here in the Elfin Cove bay, we see a ton of wildlife coming through including bald eagles and otters. We've even seen whales breaching just outside the cove as we head back to the lodge after a wonderful day of fishing! On a clear day it would seem like you could reach out and touch the snow-capped mountains. You will truly feel like you're off the grid and free in the beautiful nature of Alaska. Our air is so clean and invigorating, and our lifestyle so uncluttered and free-spirited, our guests feel relaxed and renewed within a few days and at the end of their vacation, find it difficult to leave our sportfishing paradise. 
We lessen the blues of leaving Tanaku Lodge once your trip concludes by making sure our guests get to take home 50 pound boxes of tasty fish that they caught, extending the Tanaku experience for many months to come with the best tasting fish that you just can't get from the grocery store in mainland America. Since we'll help you catch the fish that you desire, that means your box will be filled with just what you like whether it's halibut, king salmon, rockfish or more specific options like the toothy but tasty lingcod that some of our guests prize most. This unique wilderness environment provides the perfect setting for 'hoot and holler' hard-core salmon fishing groups, or intimate family gatherings where grandparents, parents and children can start fishing memories across generations. Every day, when you return from your fishing expedition, you'll take in the bald eagles flying by the dozens in the cove, watch the action at the docks as the big fish of the day are weighed, and take in the gorgeous landscapes of Elfin Cove. We have many regular groups who have been here multiple times over or even come every year without fail, and we think that once you arrive at Tanaku Lodge you'll understand why.
Alaska Fishing Lodges All Inclusive
Whether you're hoping to catch halibut or rockfish in the deep ocean, king salmon in one of the inlet areas where they make their way back to freshwater spawns, or trout in an inland river farther into the island, an all-inclusive trip to Tanaku Lodge in Alaska is the best way to go so you can catch incredible fish and not have to worry about having the right gear or having to rent a boat. Our captains are extremely experienced and will not only help you catch all the fish you want in the best spots, whether it's trolling the ocean floor in just the right spots for halibut, or being highly knowledgeable about where to find the king salmon at any given point during the season. However they aren't just excellent fishermen, but they are also wonderful hosts that will make your days highly enjoyable and fun by spotting wildlife, pointing out the most gorgeous waterfalls and land features, telling great stories and making you feel at home on the water like you've been fishing your whole life.
We take care of everything for you so all you have to do is catch the fish you want with all the help you need from our captains, and relax at our lounge with excellent food and beverages well into the evening. You'll feel invigorated and refreshed by a trip to Elfin Cove with us, and make wonderful memories with the friends and family you bring along that will last a lifetime. We are dedicated to providing the best fishing experience possible for every single guest and group we host, and we have the best staff who loves being here and helping you enjoy your trip as much as possible. We're also family owned and are so proud to have multiple generations of family members working here. Please give us a call or contact us online if you're interested in taking your family or friends to Tanaku Lodge. We'd love to get your dream trip scheduled so you can join us and make amazing fishing memories!